I dislike telling people how to spend, not spend their money. The things I feel are worth their price tag are not the same for everyone. When asked, I'd offer my opinion. That's what friends are for, right? I had a friend of mine mention how she was having trouble adjusting to her husband's new job, and the pay cut. In the same breath, she just couldn't
go without getting a manicure
.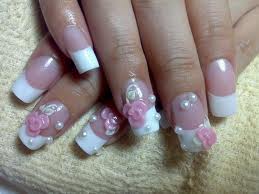 Image property of www.nailsfungus.org
She's a stay-at-home mom, and she seems to stay busy. While she was getting her nails done she had someone at her house cleaning…She has 2 boys, one in school, on in pre-school several days a week. I have two boys also. I know that just one can do serious damage to a bathroom quickly. Boys really are nasty little creatures. While I can't imagine feeling like I needed either, I know we have must have items as well.
My Husband has a thing for electronics, gadgets and recently guns. The boys share his interests, less the guns. The girl is obsessed with shoes. My must have luxury is quiet. With three kids it comes at a high price, lack of sleep. I don't mind the kids noise, but I find it difficult to be me without time to decompress at the end of the day.
I'm not sure my price is all that different from my friends but what price to you put on sanity?
This is E